It's clear that we are living in challenging times and it's understandable if the current state of the world has you frustrated, overwhelmed, and anxious. It's almost as if you want to take a step back from it all and reassess your key priorities and 2020 strategy plan. But now it's more important than ever that you continue to communicate with your audience, even if your doors are shut. By no means stay silent.
As social distancing restrictions become relaxed and retail businesses begin to open, it's important to use this time to engage with your followers online.
Since the start of COVID-19, social media usage has been increasing and people are hungry for content. When it's done right, the power of social media can be a huge opportunity for your business to connect with your audience to steadily scale and grow.
But first, make sure you tailor your messaging for your audience. Be mindful of who your business engages with, whether that's healthcare professionals, people struggling to pay bills or fellow business owners that have had to lay off staff and shut their doors.
Adjusting your messaging ensures you care about your customers, clients and supporters. Understanding their situation right now will demonstrate more than just compassion and empathy. It will show your audience that you are aware of their needs and available to provide support, helpful links and resources, inspiration, motivation or anything else.
The business world is flipped upside down right now and how business market themselves is changing. But that doesn't mean you should put a stop to your marketing efforts. Your business can make it through, and it will come out on top!
But the question still remains… how are you going to communication with your customers and clients?
It's important to note that only a small fraction of your followers may see your pages, so you want to make every post count.
How to Leverage Live Streaming Video Platforms to Reach a Larger Audience
The number one way to mimic in-person engagement during our current climate is live streamed video.
Live streaming means broadcasting and recording video content simultaneously and often directly done through the social media platform itself.
Livestream video can help to offer a sense of human interaction and connection when everyone is stuck at home.
You can invite your followers to the livestream in advance to let them know the time and date you are going online or even send an email invitation to give people stuck at home something to look forward to.
If you are the one hosting the live stream, you can see attendees, comments and reactions as they come in and respond to them in real-time. It's the best way to replicate an interactive experience with your audience. Some platforms allow you to invite people to join your live video so you can stream on both screens at once.
There's a lot of social media platforms out there but we recommend focussing on the platforms where you have the most customers or have access to a network of new prospects. It's important to consider where most of your followers are going and tailor your content to each platform.
We've narrowed it down to 3 platforms that we will go through with examples of livestreaming:
Facebook
Instagram
LinkedIn
Let's get started.
Facebook Live
If you have a company page, you're likely to have one on Facebook. It dominates the space when it comes to social media, with billions of active users around the world. Facebook Lives are commonly used for personal and professional business profiles.
Setting up a Facebook Live allows you to choose to livestream directly from your company page or to an event. You can add location tags, descriptions, and tag friends. When you start your live stream, your followers will be notified. You can save your videos so your followers can watch them later and also use them as Facebook ads.
Here's an example of businesses using Facebook Live to engage with their audience. Bloomberg, an industry leader in the stock market, knows its followers would be interested in updates on stock market status.
https://www.facebook.com/watch/?v=10154853929546880
Facebook Live allows you to produce and deliver valuable video content and information without having to break the bank on video production costs.
If your content offers value to your audience, you will be able to successfully engage and grow your audience.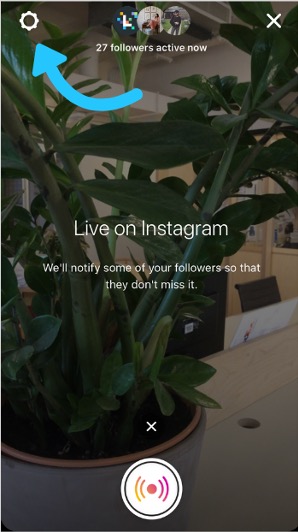 Instagram Live
Instagram Live has been an upcoming trend and a popular platform for millennials. The Instagram Live feature allows you to go live from your mobile device, not your desktop (like Facebook).
Once you go live, your followers will receive a notification, and your live video will appear at the top of your Instagram Stories feed. You can even invite guests to join your live video stream on Instagram. This way, your live will be broadcast to the followers of both audiences.
This is great if you are collaborating with another business or partner program. Viewers can send you a request to join your live stream and will be allowed in if approved by the host.
Ready to give it a try?
LinkedIn Live
If you're a small business looking to grow, LinkedIn is the place to be. It's a professional networking platform that helps companies connect and reach their audience.
If you have a company page and active presence on LinkedIn, you should look into hosting a LinkedIn live stream video. In order to live stream on LinkedIn, you have to apply and be accepted as a broadcaster.
The platform only accepts a limited number of broadcasters, and they're looking for companies who will commit to producing "compelling and interactive content on a consistent basis." If approved, LinkedIn Lives have to be conducted using third-party streaming tools, which may or may not have a cost depending on which one you pick. It's definitely worth a shot if you can get started. You will be able to engage with your professional network and communicate your product and services to clients directly.
Here's an example of business using LinkedIn Live:
The global consulting firm, PwC, used LinkedIn Live to host a panel discussion with members of its Sweden team to discuss industry trends and answer questions live from the audience.
We hope this post has given you some inspiration to start a video live stream for your company and its followers.
If you're still having trouble deciding, feel free to reach out to one of our marketing experts who can share their insights and expertise to get started. Happy streaming!